We have made our live blog of the coronavirus pandemic free for all readers. Please consider supporting our journalism with a subscription.
Latest updates
'Poor decision': Chadstone outbreak linked to Frankston cleaner who failed to self-isolate
By

Marissa Calligeros

and

Ashleigh McMillan
A Frankston cleaner who failed to self-isolate when her family members contracted coronavirus is believed to have sparked the COVID-19 outbreak at Chadstone shopping centre.
Peter Robinson, co-director of the Butcher Club, has told radio station 3AW that the manager of his store was hospitalised with the virus after a cleaner who was part of a family cluster in Frankston worked while infectious.
"The manager of the store has spent a day or two in hospital, so that was a bit worrying," Mr Robinson said.
It comes as Victoria's daily COVID-19 case tally returned to single digits with seven new cases recorded on Friday.
Another two Victorians have died, bringing the state's death toll to 802.
Health authorities have identified more high-risk exposure sites linked with the Chadstone outbreak, including Leo's Fine Food and Wine Supermarket in Glen Iris.
President Trump tweets short video
Trump arrives at Walter Reed hospital
US President Donald Trump has just arrived on the Marine 1 helicopter at Walter Reed Military Hospital.
The president walked to his helicopter but didn't stop to speak to the assembled media as he does quite often.
His son Eric Trump has tweeted praising his father as a 'true warrior'.
Trump takes experimental cocktail following COVID-19 diagnosis
By

Farrah Tomazin
US President Donald Trump has been given a dose of an experimental antibody cocktail after testing positive for coronavirus one month from the election.
Shortly before he was set to be hospitalised, Trump received an infusion of a drug produced by biotech company Regeneron, whose chief executive has known the president for years.
The antibody drug, named REGN-COV2, is designed to treat mild to moderate forms of COVID-19. Its aim is to reduce the virus load and the time needed to ease symptoms in non-hospitalised patients with COVID-19.
According to the company, clinical trials had shown "positive trends in reducing medical visits."
The drug has not yet been formally approved but it is viewed as a promising prospect in the fight against the global pandemic.
According to a memo from Trump's physician, Dr Sean P Connley, the president took "a single eight gram dose of regeneron polyclonal antibody cocktail" as a "precautionary measure" and completed the infusion "without incident."
"In addition to the polyclonal antibodies, the President has been taking zinc, vitamin D, famotidine, melatonin, and a daily aspirin. As of this afternoon, the President remains fatigued, but in good spirits," the memo said.
"He's being evaluated by a team of experts and together we'll be making recommendations to the first to the President and First Lady in regards to the next steps.
First Lady Melania Trump remains well with only a mild coughing headache and the remainder of the First Family are well and tested negative (for COVID-19) today."
Regeneron's chief executive Leonard Schleifer has known Trump for years, as a member of the President's golf club in Westchester County.
According to the New York Times, the Food and Drug Administration cleared the way for Trump to use the drug after medical staff reached out to the company.
Shares of Regeneron Pharmaceuticals Inc initially rose more than two per cent after news of Trump's use of the drug was announced.
TV reporter grabbed, kissed at St Kilda beach amid COVID-19 violations, large gatherings
By

Erin Pearson
Chief Health Officer Brett Sutton has told people to "hold the line" after television footage aired of people gathering in droves at St Kilda beach ahead of warm weather this weekend.
"Don't risk everything. What we can hold back now means a truly normal summer. Please - Hold. The. Line", Professor Sutton tweeted after a large gathering of people surrounded a television reporter, grabbing and kissing his face in breach of COVID-19 restrictions.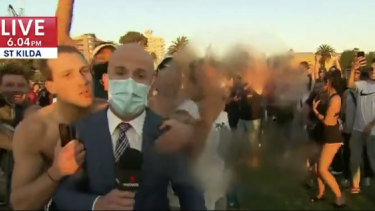 It shows Seven News reporter Paul Dowsley attempting to warn Victorians of the current restrictions while a group of up to 70 people gather behind him.
Many aren't wearing face masks while others have them hanging from their chins, before one mask-less woman runs up and plants a kiss on the television camera.
Seconds later, as a dozen people run back and forth behind the reporter, a man - also without a mask - kisses Dowsely's head and face three times live on air.
Confronted with deadly blind spot, bureaucrats stayed in their lane
By

Chip Le Grand
On April 3, Kym Peake received a letter from Premier Daniel Andrews confirming her place among the chosen few of the Victorian public service.
The COVID-19 crisis had prompted Mr Andrews to reorganise his government and the bureaucracy supporting it. He wanted Ms Peake to lead the most important of seven newly created "missions" – the impending health emergency.
Ms Peake, a career public servant renowned for her voracious work ethic, would continue to support her minister, Jenny Mikakos, but the Premier's letter left no doubt who was in charge.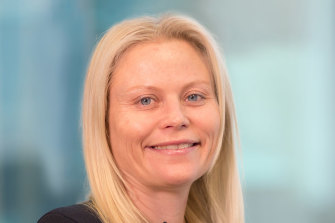 "In this role you are accountable to me," Mr Andrews wrote.
The idea was the brainchild of Chris Eccles, secretary of Victoria's Department of Premier and Cabinet and one of Australia's most experienced bureaucrats.
In his evidence to the hotel quarantine inquiry, Mr Eccles explained that the aim was to make good decisions more quickly by focusing the sharpest minds solely on the pandemic.
Trump being transferred to Walter Reed hospital after COVID-19 diagnosis
By

Matthew Knott
Washington: US President Donald Trump is being transferred from the White House to a nearby hospital and is expected to stay there for several days, in a concerning development in his battle with COVID-19.
The news came soon after Trump's physician released a statement describing the President as "fatigued" and saying the he had been given an experimental antibody cocktail.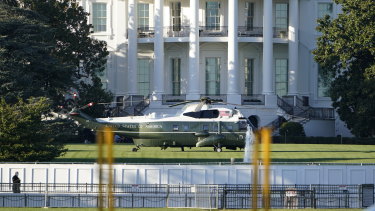 The official presidential helicopter, Marine One, landed on the White House lawn on Saturday (AEST) in order to transfer Trump to the Walter Reed National Military Medical Centre in Maryland.
"Out of an abundance of caution, and at the recommendation of his physician and medical experts, the President will be working from the presidential offices at Walter Reed for the next few days," the White House said in a statement.
Trump taken to military hospital
WASHINGTON: US President Donald Trump will spend a "few days" at a military hospital after contracting COVID-19, the White House said Friday, as the virus that has killed more than 205,000 Americans spread to the highest reaches of the U.S. government.
Trump "remains fatigued," his doctor said.
Trump was to depart the White House by helicopter late Friday for Walter Reed National Military Medical Centre.
The White House said the visit was precautionary and that he would work from the hospital's presidential suite, which is equipped to allow him to continue his official duties.
"President Trump remains in good spirits, has mild symptoms, and has been working throughout the day," said press secretary Kayleigh McEnany.
AP
Premier not 'excited' by announced Queensland border reopening
By

Tom Rabe

and

Lydia Lynch
Premier Gladys Berejiklian poured cold water on Queensland's announcement that the NSW border will open by November, saying it was no better than the existing policy.
Queensland Premier Annastacia Palaszczuk on Friday announced the state's southern border would reopen on November 1, provided NSW went 28 days with zero community transmission.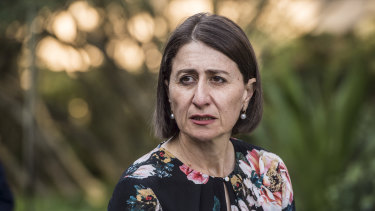 NSW recorded its seventh straight day of zero community transmission on Friday.
NSW Health issued a public health alert on Friday afternoon after a passenger who had been on board a flight from Melbourne to Sydney tested positive to coronavirus while in hotel quarantine.
The passenger is believed to have travelled while infectious, but the majority of those onboard Jetstar Flight JQ510 are undertaking mandatory quarantine.
'The fish are biting and the beers are cold': NT and NSW will open to NZ
By

Mary Ward

,

Angus Livingston

and

James Massola
New Zealanders will be able to travel to NSW and the Northern Territory without needing to quarantine in a one-way travel bubble from October 16.
But Australians wishing to holiday or visit family in New Zealand will have to wait, with a decision to open up and allow quarantine-free travel from Australia unlikely before the October 17 national election.
Kiwi travellers will need to have been in an area of New Zealand with low numbers of COVID-19 cases for at least 14 days before they will be allowed into Australia.
Deputy Prime Minister Michael McCormack thanked NSW Premier Gladys Berejiklian and NT Chief Minister Michael Gunner for opening up to Kiwi tourists.
"I have just gotten off the phone with Chief Minister Gunner who says 'the fish are biting and the beers are cold' and he wants to see as many of his New Zealand cousins and friends as possible," he said.
https://news.google.com/__i/rss/rd/articles/CBMi8QFodHRwczovL3d3dy5zbWguY29tLmF1L25hdGlvbmFsL2Nvcm9uYXZpcnVzLWxpdmUtdXBkYXRlcy1kb25hbGQtdHJ1bXAtaXNvbGF0ZXMtYXQtd2hpdGUtaG91c2UtYWZ0ZXItcG9zaXRpdmUtY292aWQtMTktdGVzdC12aWN0b3JpYS1jaGFzZXMtZHJvcC1pbi1jYXNlcy1xbGQtYm9yZGVyLXJlb3BlbmluZy1wdXNoZWQtYmFjay1hdXN0cmFsaWFuLWRlYXRoLXRvbGwtanVtcHMtdG8tODkwLTIwMjAxMDAzLXA1NjFtNS5odG1s0gHxAWh0dHBzOi8vYW1wLnNtaC5jb20uYXUvbmF0aW9uYWwvY29yb25hdmlydXMtbGl2ZS11cGRhdGVzLWRvbmFsZC10cnVtcC1pc29sYXRlcy1hdC13aGl0ZS1ob3VzZS1hZnRlci1wb3NpdGl2ZS1jb3ZpZC0xOS10ZXN0LXZpY3RvcmlhLWNoYXNlcy1kcm9wLWluLWNhc2VzLXFsZC1ib3JkZXItcmVvcGVuaW5nLXB1c2hlZC1iYWNrLWF1c3RyYWxpYW4tZGVhdGgtdG9sbC1qdW1wcy10by04OTAtMjAyMDEwMDMtcDU2MW01Lmh0bWw?oc=5
2020-10-02 22:50:00Z
52781097425547