Two people who took part in one of President Donald Trump's campaign rallies last week have tested positive for coronavirus.
As the president continues to hold packed out events around the country ahead of next week's US election, health officials have today revealed that two people with the virus attended one of Trump's rallies in North Carolina on October 21.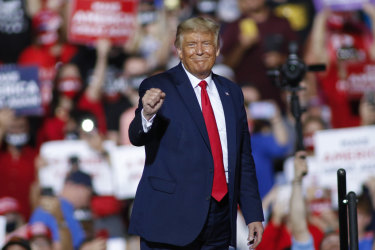 The case has once again brought to the fore the ad hoc nature of testing and tracing in the US, with Gaston County's health department noting it would not be possible to get in touch with the "large number of potential contacts from the rally" so it would be up to each attendee "to assess their own risk and take appropriate actions".
One of the people who contracted the virus was a staff member from local media outlet WCNC, who got tested after the event out of an "abundance of caution" due to the "large gathering and lack of mask wearing by many of the participants," station management said.
The routine screening was conducted according to the station's own safety protocols. No such protocols exist for ordinary attendees of Trump's rallies.
"These cases are not thought to be an indication of spread from the rally at this time, but rather two independent cases among individuals who were in attendance," Gaston's health department said in a statement.
An estimated 28,000 people are believed to have attended Trump's rally in North Carolina last week, which is one of dozens he is holding in the final stretch of the campaign against Joe Biden.
But health experts have repeatedly warned about the dangers involved, given the US is currently undergoing a massive surge of COVID cases - including in the states where Trump is holding his rallies.
The latest figures from Johns Hopkins University show that more than 228,000 Americans have died from the pandemic and almost 9 million have been infected. Trump, First Lady Melania Trump and their son Barron are among many in the White House who have had COVID-19.
Over the past week, there has been an average of about 75,561 cases per day, an increase of more than 40 percent from the average two weeks earlier.
"If things do not change, if they continue on the course we're on, there's gonna be a whole lot of pain in this country with regard to additional cases and hospitalisations, and deaths," Dr Anthony Fauci, the nation's top infectious diseases expert, said in an interview with CNBC.
Despite the spikes, the President continues to tell supporters that they need not worry about the virus, using his recent recovery from COVID19 - assisted by world class medical treatment and therapeutics not yet available to ordinary Americans - as an example that the virus can be controlled.
"We know the disease, our social distance, we do all of the things we have to do," Trump told supporters at a Florida rally today, most of whom were not wearing masks as they sat shoulder-to-shoulder.
"You know the bottom line though? You're gonna get better… If I can get better, anybody can get better."
Trump's rally in North Carolina last week was held at the Gastonia Municipal Airport. Gaston's Department of Health and Human Services announced the positive tests results Thursday (US time).
Trump was due to return to the battleground state today for another rally but cancelled due to weather.
"Forced to move our Rally tonight in Fayetteville, North Carolina, to Monday, due to high speed winds and bad weather. I love you North Carolina. Stay safe, see you on Monday!!!" he announced on Twitter.
Farrah Tomazin is a senior journalist covering the 2020 US presidential election.
https://news.google.com/__i/rss/rd/articles/CBMieGh0dHBzOi8vd3d3LnNtaC5jb20uYXUvd29ybGQvbm9ydGgtYW1lcmljYS9jb3JvbmF2aXJ1cy1kaWFnbm9zaXMtYXQtdHJ1bXAtcmFsbHktaW1wb3NzaWJsZS10by10cmFjZS0yMDIwMTAzMC1wNTY5eW8uaHRtbNIBeGh0dHBzOi8vYW1wLnNtaC5jb20uYXUvd29ybGQvbm9ydGgtYW1lcmljYS9jb3JvbmF2aXJ1cy1kaWFnbm9zaXMtYXQtdHJ1bXAtcmFsbHktaW1wb3NzaWJsZS10by10cmFjZS0yMDIwMTAzMC1wNTY5eW8uaHRtbA?oc=5
2020-10-29 22:00:00Z
52781155447867