Summary
President Donald Trump and former vice president Joe Biden are facing off in Cleveland Ohio for the first of the presidential debates. The 90-minute showdown will be conducted under strict coronavirus guidelines, with no handshakes, social distancing, and COVID tests for all attendees.
Coronavirus, the US economy, and race and violence are some of the topics that will be hotly contested today. The death of civil rights icon Ruth Bader Ginsburg will also throw the spotlight on the future US Supreme Court and Trump's conservative nominee, Amy Coney Barrett.
The election will be held on November 3 but early postal voting has already begun in some states. Voter turnout is expected to reach record levels year, with some experts predicting that the number of people voting either in person or by mail could exceed 145 million.
Pinned post from
Watch live: US presidential debate
The US presidential debate between Donald Trump and Joe Biden begins at 11am AEST. You can watch it live here:
Latest updates
Trump tries to reach a divided audience
By

Nick O'Malley
The section on violence in American cities is good news for Trump. Many in his camp believe that suburban women voters who have been appalled by some aspects of the Trump presidency will return to the fold if scared by the prospect of violence.
This is why Trump needs to describe Antifa as a cohesive and dangerous organisation, rather than, as Biden put it, an idea.
Biden needs to try to rebuild and hold the coalition of minorities that elected and re-elected the Obama administration while trying to reach the working-class white people that presidency lost. A hard task for him, fertile ground for Trump.
'You can't even say the words law enforcement,' Trump tells Biden
We're now onto the issue of race.
America has been undergoing a national reckoning on race since the death of George Floyd on May 25. (I recently visited the city to see how it faring in the wake of Floyd's death - you can check out my feature here).
In recent months, however, violent protests in the US, often hijacked by subgroups that have little to do with the genuine civil rights movement, have rocked some cities and given Trump fertile ground with which to frame himself as a "law and order" President.
In the face of looting and rioting in places such as Portland (where protests have continued for months) or Kenosha (where black man Jacob Blake was shot multiple times in the back by police) Trump has been pushing that you "will not be safe in Joe Biden's America".
Today, he's pushing the same theme, telling Biden that he's so beholden to the progressive wing of the Democrats that "you can't even say the words law enforcement because if you say those words, you're going to lose all of your radical left supporters".
'It's hard to get a word in with this clown': Biden
Trump is fired up, talking aggressively over Biden as well as moderator Chris Wallace, who is struggling to keep proceedings on track.
"It's hard to get a word in with this clown. Excuse me, I mean, this President," says Biden.
As expected, Trump also goes after Joe Biden's son, Hunter Biden, in a bid to rile up the former VP.
Wallace is now asking the President if he'll tell the American people how much he's paid in taxes.
Trump replies: "Millions of millions of dollars."
The line of questioning comes after The New York Times reported two days ago that Trump had only paid $US750 ($1050) in federal income taxes in 2016 and 2017 – and no taxes at all in 10 of the previous 15 years.
Biden released his tax returns a few hours before the debate and called on Trump to do the same. The records show that Biden and his wife, Jill, paid nearly $US300,000 in federal income tax last year and had an adjusted gross income of about $US985,000.
Biden tells the audience that he wants to eliminate Trump's taxes for the wealthy. The president hits back, telling his rival: "If you got in, if you ever became president with your ideas... half of the companies that have poured in here will leave.
"We'll have a depression, the likes of which you've never seen."
Who do you trust to fix the economy?
We're now debating the economy.
The economy was Trump's biggest policy strong suit before the global pandemic forced the US into a coronavirus fuelled recession. Nonetheless, the President often says under his leadership "we built the greatest economy in the world" and that "we'll do it again".
Today he's making the same argument, telling the audience: "We built the greatest economy in history but we closed it down because of the China plague.
"But what happened is we closed it down and now we're reopening and we're doing record business. We had 10.4 million people in a four-month period that we've put back into the workforce. That's a record the likes of which nobody's ever seen before, and he (Biden) wants to shut it down again. He will destroy this country."
Biden's argument, however, is that the President's mishandling of coronavirus, coupled with "tax breaks for the super-wealthy", has led to a jobs crisis in America, for which millions of people now find themselves unemployed or struggling to make ends meet.
"You can't fix the economy until you fix the COVID crisis," Biden says.
Trump leverages his experience
By

Nick O'Malley
Trump's team declared before the debate that he would focus on "leveraging" his experience rather than doing extensive preparation for the debate, and that tactic is starting to show.
Biden's lines are clearly prepared for the confrontation whereas nothing we have so far heard from Trump sounds any different from his press conferences and interviews, with some added personal invective.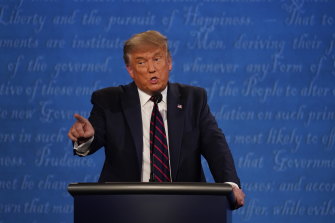 This too is not surprising. This is the bloke who accused Ted Cruz's father of complicity in JFK's assassination.
'Don't ever use the word smart with me'
Biden is continuing to attack Trump for his handling of coronavirus, noting his comment earlier this year suggesting that people should "inject some bleach in your arm and that would take care of it."
Trump responds by claiming he was being "sarcastic."
Trump then attacks Biden personally, saying: "You went to Delaware State but you forgot the name of your college... Don't ever use the word smart with me, don't ever use that word."
Coronavirus takes centre stage
We're now onto the topic of coronavirus. This has arguably been Trump's biggest electoral weakness, with Democrats claiming his early mishandling of the virus is largely to blame for the fact that more than 205,000 Americans have now died from COVID-19 and millions more are struggling to make ends meet
The President's central defence is that he closed down the border to Chinese travellers in late January, coupled with the argument that Biden did not initially support this move and accused him of being xenophobic.
Biden, however, hits out at the President for knowing the risks months ago, but still not having a plan to deal with the problem.
Trump responds by saying he did "a phenomenal job."
"We did. We got the gowns, we got the masks, we made the ventilators.. and now we're weeks away from a vaccine," he says. "We've done a great job."
Debate begins with rapid fire
By

Nick O'Malley
This determination by Wallace that the two engage in "open discussion" is no surprise.
People are rightly sceptical about Fox News's political bent, but Chris Wallace, the anchor of Fox News Sunday, is one of the best political interviewers in the game. When Wallace last interviewed Trump in July he humiliated Trump when the President boasted that he had blitzed a cognitive test.
"I took the [cognitive] test too, when I heard you passed it. It's not the hardest test. It shows a picture and it says, 'what's that,' and it's an elephant," Wallace responded.
Wallace has said he will not fact check either candidate and will instead seek to be "invisible" and instead direct the two to challenge one another. This is in keeping with the role assigned to him by the Debate Commission, but might frustrate those who'd like to see Trump's typical firehose of disinformation checked live.
And we're off....
Both candidates have now walked onto the blue and red stage at Case Western Reserve University and Cleveland Clinic in Ohio.
Coronavirus rules prevent them from shaking hands, which means we've managed to avoid an awkward moment like the one we saw in 2016 when Trump and Hillary Clinton refused to greet one another at the start of their second and third presidential debates.
Perhaps not surprisingly, neither Trump or Biden attempted an elbow bump either.
Chris Wallace kicks off by asking about Trump's nomination for the Supreme Court, Justice Amy Coney Barrett.
As readers know, the death of civil rights icon Ruth Bader Ginsburg earlier this month has paved the way for a bitterly partisan showdown over the Court, including issues such as abortion rights, Obamacare and immigration.
Trump insists that he has every right to push through the nomination and that there is "plenty of time" to confirm Barrett before the election.
Biden, however, argues that it's not appropriate to do so, arguing that "it's simply not appropriate". He adds that while Barrett seems like a fine person, she makes no secret of the fact that "she thinks that the Affordable Care Act is not constitutional"
https://news.google.com/__i/rss/rd/articles/CBMitQFodHRwczovL3d3dy5zbWguY29tLmF1L3dvcmxkL25vcnRoLWFtZXJpY2EvdXMtcHJlc2lkZW50aWFsLWRlYmF0ZS1saXZlLXVwZGF0ZXMtZG9uYWxkLXRydW1wLWFuZC1qb2UtYmlkZW4tZmFjZS1vZmYtZm9yLXRoZS1maXJzdC10aW1lLXdlZWtzLWJlZm9yZS0yMDIwLWVsZWN0aW9uLTIwMjAwOTI5LXA1NjA5Zy5odG1s0gG1AWh0dHBzOi8vYW1wLnNtaC5jb20uYXUvd29ybGQvbm9ydGgtYW1lcmljYS91cy1wcmVzaWRlbnRpYWwtZGViYXRlLWxpdmUtdXBkYXRlcy1kb25hbGQtdHJ1bXAtYW5kLWpvZS1iaWRlbi1mYWNlLW9mZi1mb3ItdGhlLWZpcnN0LXRpbWUtd2Vla3MtYmVmb3JlLTIwMjAtZWxlY3Rpb24tMjAyMDA5MjktcDU2MDlnLmh0bWw?oc=5
2020-09-30 02:02:00Z
52781090192410