We have made our live blog of the coronavirus pandemic free for all readers. Please consider supporting our journalism with a subscription.
Latest updates
Young vloggers who filmed themselves breaching Melbourne's curfew rules on a McDonald's run handed themselves in to police after being widely condemned on Chinese social media.
The trio were fined thousands of dollars on Monday for their early morning jaunt.
"Three people were fined yesterday after a video emerged of them filming themselves going out after the curfew hours at approximately 2.30am on Sunday morning to get takeaway food from a fast-food restaurant in the CBD," a police spokeswoman said.
The video shows the trio heading out into a deserted Melbourne CBD, using alleyways to avoid police – all to the tune of the James Bond theme song – before dancing inside the McDonald's restaurant.
The ABC reports the group shared the video on Chinese social media platforms Weibo and WeChat, sparking outrage from the Chinese Australian community.
The vloggers told the ABC they accepted every criticism they received and apologised for their actions.
Jobs Minister Martin Pakula has firmly refused to answer a question from Liberal MP Bridget Vallence who asked which Victorian government minister is ultimately responsible for the state's botched hotel quarantine program.
"I'm not going to engage with you on what can only be described as a gotcha-type question," Mr Pakula told today's parliamentary inquiry.
"Both myself and the departmental staff in this meeting have been, I think, frank with the committee in regards to what our department's role was, the role of the DHHS – to the extent relevant – and the State Control Centre.
"Everybody had a different role in the operation and government departments exercised those roles as required."
Simon Phemister, secretary of the Department of Jobs, Precincts and Regions, said a senior officer from Forest Fire Management Victoria, Chris Eagle, was in charge of the day-to-day running of the hotel program.
Mr Phemister said early in the hotel program, his department raised concerns about the capabilities of private security guards to Mr Eagle and suggested police, not just security guards, should monitor the hotels.
"We don't have expertise in security," Mr Phemister said.
"Our approach was that if we saw anything that we thought could assist decision-makers, with regards to various aspects of the plan … we would raise it through the daily meetings with the deputy state controller [Mr Eagle].
"The deputy state controller acknowledged and heard at all times any concerns that were raised. What he did to consult the experts, to get a response back to us, I'm not sure."
Victoria Police was not asked to assist in quarantine hotels until July, more than three months after the program began in late March.
That ends Mr Pakula's evidence for the day. Two executives from the Australia Industry group are next to face the parliamentary inquiry about 1.45pm.
Our live stream of Victoria's parliamentary inquiry is ending, but you can continue watching on State Parliament's website here: https://www.parliament.vic.gov.au/video-and-audio/live-broadcasting
Our reporter Michael Fowler will continue to bring us the latest developments from the inquiry throughout the afternoon. Right now, Jobs Minister Martin Pakula is continuing to give his evidence.
If you didn't get a chance to watch Premier Daniel Andrews' press conference today, here's a brief summary of the key points:
Sadly, Victoria has recorded 21 deaths, marking a new high in the state's daily death toll. Meanwhile, 410 new cases have been detected;
Sixteen of the 21 deaths are linked to aged care homes;
Mr Andrews said "real data" would determine whether Melbourne moves from a stage four lockdown to stage three restrictions in mid-September, before entering stage two after the end of September;
The state government will provide a detailed breakdown on COVID-19 cases linked to workplaces, including schools and aged care facilities, next week;
There are 662 Victorians in hospital with the virus today, including 43 fighting for their lives in intensive care, 25 of whom are on ventilators;
The number of active coronavirus cases across Victoria decreased today for the first time in almost two months to 7877;
Mr Andrews indicated there is a "concerning increase" of cases in the regional cities of Geelong, Bendigo and Ballarat;
Hairsplitting over the government's hotel quarantine program continued, with the Premier throwing his weight behind Emergency Management Commissioner Andrew Crisp, who has said ADF support was never offered to Victoria early on;
Mr Andrews also hit back at federal claims Victoria rejected offers of assistance by the ADF;
The Premier admitted there was potentially not enough N95 masks for every single healthcare worker in hospitals, but said most hospitals had adequate and timely supply of other PPE; and
Reports that vulnerable patients with COVID-19 from at least two aged care facilities were refused beds at major hospitals were "not correct", the Premier said.
At his press conference a short time ago, Victorian Premier Daniel Andrews addressed the issue childcare during Melbourne's stage four lockdown.
Childcare centres are closed to all children except those of permitted workers who can make no other care arrangements. But grandparents, babysitters and nannies can take care of children when it is "part of a routine caregiving arrangement" and "caregiving is absolutely essential", Mr Andrews said.
The Premier said his office would release very clear definitions about essential care.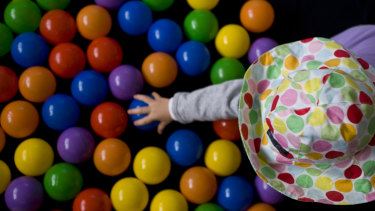 "But I think the Chief Health Officer has been very, very clear [that] anybody in that older age group should be extremely careful about moving around the community," he said.
In a brief light-hearted moment, the Premier was asked what age was considered "old" by the Chief Health Officer.
"Now that's the toughest question you've asked me for a long time," he said to a reporter from The Age.
"I think that ... it's much more a function of your general health and if you've got pre-existing conditions, which as a percentage of the community [are] those in their more senior years beyond middle age."
Victorian Jobs Minister Martin Pakula has confirmed his department told the state government early in the quarantine program that police officers, not just private security guards, should be monitoring the hotels 24/7.
Things are heating up at today's parliamentary inquiry and Mr Pakula is the first minister to reveal any details about who made key decisions regarding the program.
Mr Pakula's department hired the private security contractors to guard returned travellers while the quarantine system was being set up from March 27.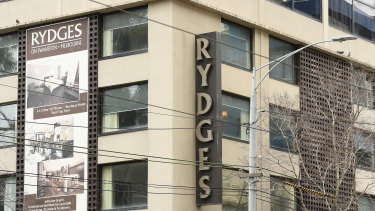 The Jobs Minister has now told a parliamentary inquiry that his department soon raised concerns about the capabilities of private security guards on more than one occasion, confirming reports in The Age earlier this month.
"There were on a couple of occasions early in the program, in treaties from officers of my department, where it was our view that police should be on-site at hotels," Mr Pakula said.
"That was a recommendation made by DJPR [Department of Jobs, Precincts and Regions] early in the process."
Mr Pakula also distanced his department from the Rydges on Swanston hotel, where the first COVID-19 infection in a security guard was confirmed on March 27.
"That was not a hotel that Department of Jobs, Precincts and Regions staff were present at," he said.
Asked if he was attempting to shift the blame to the likes of Health Minister Jenny Mikakos by saying his department simply hired private security companies, but was not responsible for infection control, Mr Pakula said he was "suggesting nothing of the sort".
"I'm simply making the point that I have heard it said and I've read it in the media [that his department oversaw infection control]," he said.
Premier Daniel Andrews has said he sends his best wishes to New Zealand, where Auckland has returned to a stage three lockdown after months of no new cases.
"We wish them all the best and to the extent of [how] it's relevant to us I think it just again reminds us, if we needed any reminding, that unless you get these numbers down to pretty low levels – and sadly I can't give you a number – but unless you get them down to pretty low level the degree of confidence you can have that you can suppress and really stay on top of any additional cases is low."
Mr Andrews said it was a reminder that coronavirus was a "wicked enemy".
"Even when you think you've perhaps got it beat, it'll be there," he said.
"That's why we've got these terrible projections about unemployment, that's why there's so much hardship and pain in the community.
"Until we get cases down to but a fraction of what they are now, then that'll always be a substantial risk.
"[The idea] that a third wave is only a short time off – that it's almost inevitable – we want to try and do everything we can to make sure that doesn't happen."
New Zealand officials are investigating the possibility that its first COVID-19 cases in more than three months were imported by freight, as the country plunged back into lockdown on Wednesday.
The discovery of four infected family members in Auckland led Prime Minister Jacinda Ardern to swiftly reimpose tight restrictions on movement in New Zealand's biggest city and travel limitations across the entire country.
The source of the outbreak has baffled health officials, who said they were confident there were no local transmissions of the virus for 102 days and that the family had not travelled overseas.
"We are working hard to put together pieces of the puzzle on how this family got infected," said Director-General of Health, Dr Ashley Bloomfield.
Investigations were zeroing in on the potential the virus was imported by freight. Dr Bloomfield said surface testing was underway in an Auckland cool store where a man from the infected family worked.
"We are very confident we didn't have any community transmission for a very long period," Dr Bloomfield said during this morning's press conference. "We know the virus can survive within refrigerated environments for quite some time."
China has reported instances of the coronavirus being detected on the packaging of imported frozen seafood.
Reuters
Back to Victoria's public accounts and estimates committee hearing, where Jobs Minister Martin Pakula has denied that private security contractors in Melbourne's quarantine hotels were hired as part of a "social inclusion" policy.
Last week, The Age and the Herald reported that the decision to use private security guards was partly driven by a well-meaning attempt to provide jobs under social inclusion policies.
While staff who normally work in a social inclusion department helped hire security companies on March 27 and March 28, Mr Pakula said, they were essentially seconded at that moment and were not working with a social inclusion goal in mind.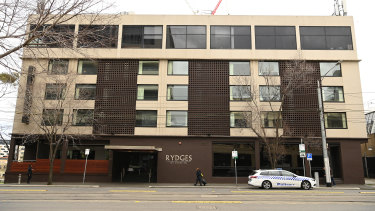 "The objective was security," Mr Pakula said.
"It was not social inclusion … and the reason that private security was used was because that instruction came to our department from the State Control Centre."
Simon Phemister, the secretary of the Department of Jobs, Precincts and Regions, agreed that the department's sole goal in assigning private security contracts was efficient security and public health.
"I commissioned the procurement of private security on the evening of the 27th with a single objective of delivering the health imperatives of the mission with a strict contract around security and public health," Mr Phemister said.
"At no time did I commission any of my staff to achieve any other objectives through the procurement."
The Age previously reported that a leaked email from another public servant, the department's deputy secretary for inclusion, painted a picture of how rushed the implementation was, describing "heroic efforts" over a weekend in late March as bureaucrats.
https://news.google.com/__i/rss/rd/articles/CBMivwFodHRwczovL3d3dy50aGVhZ2UuY29tLmF1L25hdGlvbmFsL2Nvcm9uYXZpcnVzLXVwZGF0ZXMtbGl2ZS12aWN0b3JpYS1icmFjZXMtZm9yLW1vcmUtZGVhdGhzLXJlbGlnaW91cy1yZXRyZWF0LWF0LWNlbnRyZS1vZi1zeWRuZXktc2Nob29sLWNsdXN0ZXItYXVja2xhbmQtYmFjay1pbi1sb2NrZG93bi0yMDIwMDgxMi1wNTVrdGwuaHRtbNIBAA?oc=5
2020-08-12 03:57:00Z
52780993233713