Coronavirus restrictions in New Zealand's largest city, Auckland, have been reduced to alert level two, after a two-and-a-half week period of stage three lockdown.
New Zealand reported nine new coronavirus cases on Monday, with five linked to the Auckland cluster and four in travellers who had returned to the country from India.
Prime Minister Jacinda Ardern travelled to Auckland on Monday morning to visit a government infrastructure project.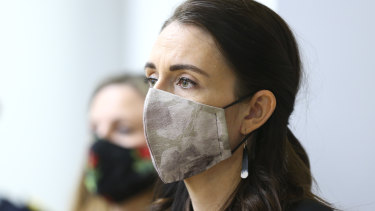 Speaking to the media while wearing a blue surgical mask, Ardern said it was "fantastic" that mask use appeared to be widespread in the city.
The prime minister warned that it was likely the country would see more coronavirus cases connected to the Auckland cluster to emerge for some time to come.
She acknowledged that people were fatigued by the re-imposition lockdown restrictions but said that "relative to others, we [New Zealand] are doing really well".
After exiting stage-three restrictions, Auckland is still subject to some additional measures, such as a limit on gatherings to 10 people - compared to 100 in the rest of the country, which is also at level two - and the eased restrictions have been dubbed "alert level 2.5" restrictions.
Health Minister Chris Hipkins said that Auckland Transport believed that nine out of 10 people on public transport were wearing public transport on masks, in line with the new country-wide regulations.
He added that "anecdotally" it appeared that about 50 per cent on the street in Auckland were wearing masks, too.
Police on the streets of Auckland are carrying extra masks to hand out to people who need them.
The Minister urged Auckland residents to follow the new health guidelines as "we continue to chase down the remnants of the current cluster".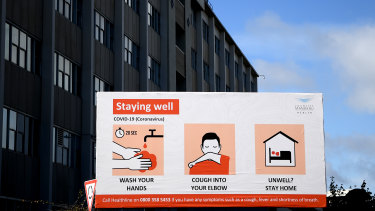 Hipkins said he was pleased with the current testing levels, with 7219 people tested on Sunday. More than 60,000 people have been tested since a testing blitz that aimed to test 70,000 people was launched last week.
The country now has 131 active cases, including 24 in returned travellers and 107 active community cases, while 15 people have now recovered from the second wave outbreak of infections.
There are 11 people in hospital, including two people in intensive care.
A total of 128 people linked to the Auckland community outbreak are in a quarantine facility, including 85 positive cases.
The Health Minister also faced a series of questions about a Ministry of Health directive that stated, incorrectly, that all residents in West and South Auckland should get tested for COVID-19.
Ardern has also expressed her anger that that incorrect information had been published.
That directive has subsequently been withdrawn and Hipkins said something had been "lost in translation" within his department which led to the error being made.
He said it was not necessary for all residents of South and West Auckland to be tested but that there did need to be some level of testing of asymptomatic people in these areas.
James Massola is south-east Asia correspondent based in Jakarta. He was previously chief political correspondent, based in Canberra. He has been a Walkley and Quills finalist on three occasions, won a Kennedy Award for outstanding foreign correspondent and is the author of The Great Cave Rescue.
https://news.google.com/__i/rss/rd/articles/CBMifWh0dHBzOi8vd3d3LnNtaC5jb20uYXUvd29ybGQvb2NlYW5pYS9hdWNrbGFuZC1jb3JvbmF2aXJ1cy1yZXN0cmljdGlvbnMtZWFzZWQtYXMta2l3aXMtZW1icmFjZS1mYWNlLW1hc2tzLTIwMjAwODMxLXA1NXF3dC5odG1s0gF9aHR0cHM6Ly9hbXAuc21oLmNvbS5hdS93b3JsZC9vY2VhbmlhL2F1Y2tsYW5kLWNvcm9uYXZpcnVzLXJlc3RyaWN0aW9ucy1lYXNlZC1hcy1raXdpcy1lbWJyYWNlLWZhY2UtbWFza3MtMjAyMDA4MzEtcDU1cXd0Lmh0bWw?oc=5
2020-08-31 02:23:00Z
CAIiEF_BQXGu3COvyQq8iIf2ILIqGQgEKhAIACoHCAowxqmICzDg_IYDMPbfmwY