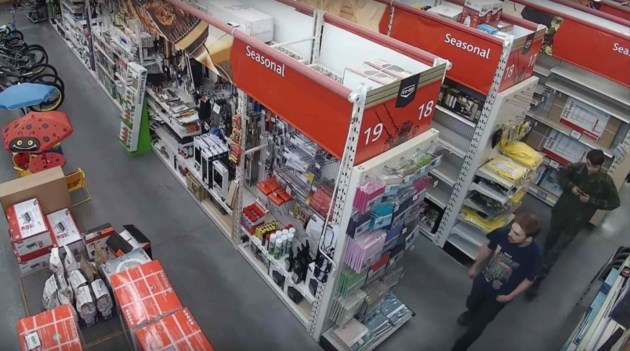 RCMP have released surveillance video showing two Port Alberni teens suspected of killing three people in northern B.C.
In the video, Bryer Schmegelsky, 18, and Kam McLeod, 19, can be seen walking through the aisles of a Co-op store in Meadow Lake, Sask., then leaving.
McLeod is wearing a black pants and blue T-shirt with a "Cathulu" image on it, while Schmegelsky is wearing a button-down camouflage shirt and camouflage pants.
Police said the video was recorded Sunday, July 21. A search for the teens is underway in the area of Gillam, Man., which is where they were last sighted.
McLeod and Schmegelsky are charged with second-degree murder in the death of 64-year-old Leonard Dyck of Vancouver. Dyck's body was found at a highway pullout two kilometres from where the teens' burned-out Dodge pickup truck was found on Highway 37 near Dease Lake on July 19.
The pair are also suspects in the killings of 23-year-old Lucas Fowler of Sydney, Australia, and 24-year-old Chynna Deese of Charlotte, North Carolina.
Their bodies were discovered July 15 beside the Alaska Highway, 20 kilometres south of Liard Hot Springs. Fowler and Deese had been exploring northern B.C. in Fowler's 1986 blue Chevrolet van with Alberta licence plates, which was found at the scene.
Police said they released the video in the hope it would generate more tips.
https://www.princegeorgematters.com/local-news/rcmp-release-video-of-homicide-suspects-in-saskatchewan-store-1609876
2019-07-27 10:21:19Z
52780340171073